Daily Hits:

Subscribe to this Feed
|
Email Me
The Man That Killed Lauryn Hill Softly With His Song (DJ Funktual):


DJ Funktual Breaks Down Killing Me Softly

I won't spoil the ending for you, but the above video from DJ Funktual is well worth five minutes of your time to find out who exactly was the inspiration behind the Fugees' Killing Me Softly. Funktual breaks down the origins of the song with a tale that involves Roberta Flack, Lori Lieberman, Al B. Sure, and Marvin Gaye.

If you've never seen any of his videos before, I highly recommend Funktual's series of Hip Hop Sample videos. His knowledge about the records he talks about is second to none, and his enthusiasm for the music makes the videos incredibly enteratining. I started watching them last week, and have since binge watched nearly fifty of them. Start with Top 10 Samples in Hip Hop History Part 1 and go from there.

And back to the subject of Killing Me Softly, here's my favorite live version of the song featuring The Fugees and Roberta Flack during the 1996 MTV Movie Awards:


The Fugees and Roberta Flack - Killing Me Softly (Live at the Movie Awards)



2/7/2016 4:30:00 PM posted by 1
7 Minutes with EPMD's Scratch:


I don't know if this quite lives up to the video's title of it being "the best 7 minutes of your life," but DJ Scratch's routine is certainly worth a few minutes of your time. Keep an eye out for Scratch tucking his chain during MOP's Ante Up, you can never be too careful when that song comes on.



1/25/2016 4:30:00 PM posted by 1
Memphis Bleek discusses Coming of Age, Ewing, and Clubbing at 15 on Highly Questionable:



I'm not sure what it says about the state of hip hop journalism, or perhaps more accurately what it says about the specific hip hop outlets that I've been checking for lately, but ESPN's Highly Questionable was far and away the best source of rap-related interviews in 2015. (Honorable mention to HipHopDX for the overall interview of the year with Marti Shkreli.) This past week had one of Highly Questionable's most entertaing interviews, featuring Jay-Z's former 15 year old protege/sidekick Memphis Bleek.

Highlights include Memph's somewhat unbelievable story about lending his Lexus to his high school teachers, Jay dismissing Bleek after he felt disrespected by the "Bleek could be a hit away his whole career" line, and Ewing forever missing that damn layup.



1/10/2016 4:30:00 PM posted by 1
Tate Kobang - Bank Rolls:


Tate Kobang - Bank Rolls (Remix)

Back around the time that I was rocking Roos and sipping on Caprice Suns, it wasn't out of the ordinary for a coordinated dance routine to break out in the middle of a rap song. These days it seems to be all or nothing; the only time you see a rap video with some dancing in it is when it's a song attempting to start up the next wedding dance craze. So it always catches my attention when a rap video features some sort of dancing, coordinated or otherwise. Not saying Baltimore's Tate Kobang is the next Kane or anything, but this video has gotten several replays from me.



10/18/2015 4:30:00 PM posted by 1
This kid is a better dj than you (or me):



After dusting off a solid year's worth of accumulated dust from my turntables this past weekend, most of the muscle memory came back and I managed to get in a few solid cuts over the course of a long session. I was starting to feel pretty good about my foray back into the dj world, but then I made the mistake of flipping through facebook and watching the above video. Nothing can humble you faster than watching an 11 year old outperform you at something you've spent years practicing. Props to whoever this kid is (though some points on the routine must be deducted for cramming in a Drake track in the middle of an old school break beat mix).



9/04/2015 4:30:00 PM posted by 1
When did Mac Miller get good at rap?:


Mac Miller - Diablo

I'm not the biggest Schoolboy Q fan, but his mentoring program deserves props for managing the difficult task of turning Mac Miller into a legitimate rapper. I can't lie, there have been a couple of Mac Miller songs that made it into my guilty pleasures playlist (Knock Knock and Nikes on My Feet made it on the strength of the beats) over the years, but his sudden rise from Lord Finesse beat jacker to Reddit's favorite rapper has been something of a surprise. A few more songs like Diablo and you might catch me jumping on the bandwagon.



9/09/2014 4:30:00 PM posted by 1
Is this a Walmart ad or just the best video to come out of New Orleans in years?:


Mr. Ghetto - Walmart

"How does this video only have 32k views?" was the question that my man Bruno asked after I passed him the link to this video last night. As it turns out the video has actually hit about 200,000 views since it was released in 2011 (the original video with the higher view count seems to have been taken down), but still a valid question given all of the sights to be seen in this rather ground breaking approach to cross channel retail marketing.

I've now watched this video several times looking for proof that it contains some sort of subtle commentary on Walmart's assault on unions, living wages, and locally owned businesses, but I keep getting distracted by all of the acting skills on display. I suppose that I'll just have to watch it a few more times to be sure I haven't missed anything.



9/03/2014 7:30:00 PM posted by 1
Bas and J.Cole celebrate the return of 33Jones!:


Bas featuring J. Cole - Made Bail

So for those of you who have diligently stuck around for the past two months while this site has been in limbo, thanks for your patience. Right now this site is being held together by the virtual equivalent of a discount roll of duct tape, but I've finally managed to get things back up and running. An army of script kiddies aided by the poorly managed webhosting company this site relies on led to an unexpected amount of downtime.

Nevertheless I've finally managed to clean everything up. This song from Bas just about sums up my feelings when I finally got the front page to load up properly.

Thanks again for sticking with me. New material coming soon, I swear. Cheers.



8/14/2014 7:30:00 PM posted by 1
Record Scratching from the Vinyl's P.O.V. (DJ Woody):


DJ Woody - Vinyl P.O.V.

Unless you're a student of turntablism on the level of, say, Q-bert, you've probably never given much consideration to what record scratching looks like from the point of view of the vinyl that's getting scratched to death by the needle. As it turns out, thanks to some footage from DJ Woody, it's about as dizzying as you might expect.



4/03/2014 7:30:00 PM posted by 1
Drumroll Please: Zilla Rocca and Geechi Suede of Camp Lo Team Up: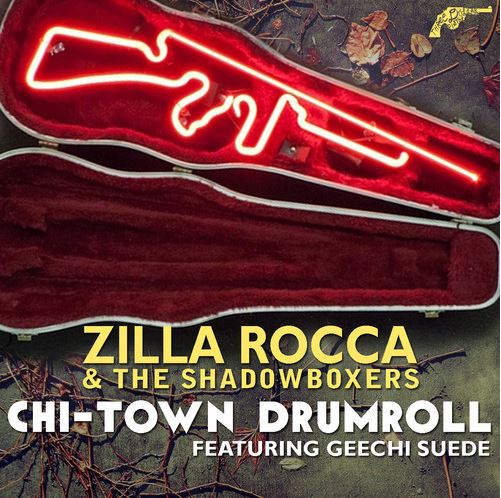 Work has kept me away from this site far longer than I would have liked - and since none of you managed to pick a perfect bracket, both Warren Buffett and I will likely be gainfully employed for at least another year - but I would have been remiss if I let the latest release from Zilla pass without an official post on it. This new single, Chi-Town Drumroll featuring Geechi Suede of Camp Lo and Luchini fame, has a special place in the history of 33Jones as being part of one of the first contracts that we ever signed under our semi-official record label back in 2011. In the interim this song went through a few changes, including a complete overhaul of the beat by Douglas Martin aka Blurry Drones.


Zilla Rocca featuring Geechi Suede - Chi-town Drumroll

It took a few years for the finished product, but the end result has been well worth the wait. And you know what else will be worth the wait? The full album this single is a part of, No Vacation For Murder, due out on April 11th. This album is going to be a hot item, and in case they run out of mp3s you might just want to go ahead and preorder the album now!

And you'll have to give me a late pass on posting this next one, but Zilla also recently released the first video from the album, a video that the Huffington Post referred to as, "a kiss-off delivered at sub-zero temperature, booming throughout the smoke-screened alleys of Philly's underbelly." That's far more poetic than anything I'm capable of writing, so I'll leave it at that and direct you on towards the video:


Zilla Rocca & The Shadowboxers feat. The Intelligence - Fake Surfers



3/26/2014 7:30:00 PM posted by 1